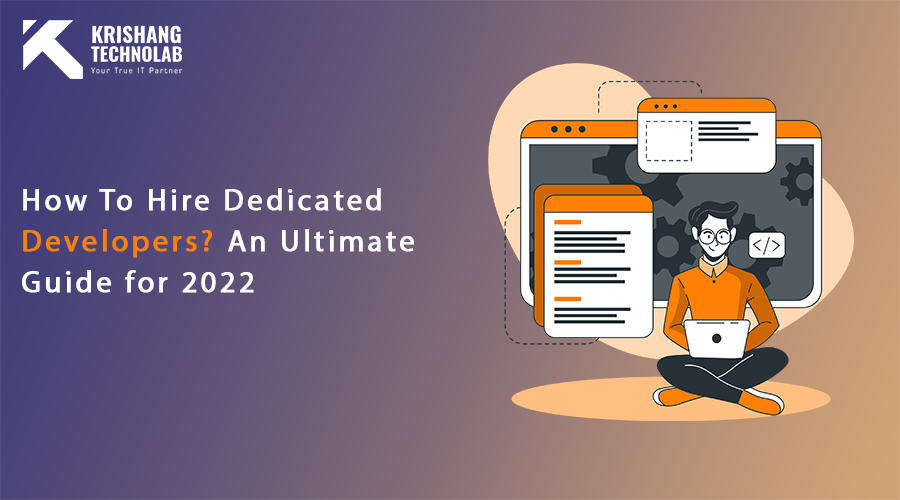 Today, businesses from every sector and industry are moving towards digitization with an online website or app. Everyone wants to develop a website, eCommerce store, or mobile app that helps them grow their business and connect with more customers online. Online businesses are taking over traditional businesses more than ever, and therefore, there is an ever-rising need to Hire Dedicated Developers to bring the project to life.
Now developing an online store or app sounds like a great idea but do you know what all it takes to develop a successful project? Well, there are a lot of factors to consider and go through before finally initiating the website or app development. Among all these factors, one of the primary and probably the most important factors is to hire a team of experienced and expert developers for web application development.
Among the many development team models, the dedicated development team model is becoming quite popular with time. Offshore dedicated developers are helping millions of innovators and entrepreneurs to execute their project ideas and make the most out of innovative technology. Since many organizations, businesses, and entrepreneurs are interested in software development for their products or services, dedicated software developers are very much in demand.
You might be wondering why you must hire dedicated developers for your project; if yes, don't worry. You have come to the right place. This blog aims at clearing all your doubts about hiring offshore dedicated developers and much more. So, follow this article and keep reading.
What Is a Dedicated Developer?
A dedicated developer is one who is hired for a specific period of time by an offshore software development company to serve the development purpose, specifically for one project. Hire Dedicated Developers to help companies to fix issues with freelancers in terms of time and approach.
In a dedicated development team model, a company hires remote offshore developers for a project, and information like company requirements, deadlines, budget calculations are discussed in the contract.
According to Statista, there are currently 23 million developers worldwide, with that number predicted to increase to 27.7 million by 2023.
Hiring a reliable dedicated team of app developers is a great choice, but it's not as simple as it seems. It is actually a big challenge to find a dedicated team of developers that understand your project and work on it wholeheartedly. There are some key factors to pay attention to before hiring offshore software developers for your project. So, shall we discuss these factors next?
You Can Find Out More About : In-house team vs Remote team vs Dedicated team – Which Model is the best for a startup?

We will you through the three models one-by-one in detail and discuss some facts, pros, and cons of each of these models to help you choose one which best suits your startup project requirements.
What To Look For In Offshore Dedicated Developers?
Their area of expertise
Their total experience in app development
Their portfolio and past projects
Make sure the developers are tech-savvy
They should have a good hold on the programming languages
Check their project delivery time
Make sure they have effective communication
What Are the Benefits of Hiring Offshore Dedicated Developers?
Outsourcing the project development to an offshore software development team is beneficial in not just one but many ways.
So, let's look at the few benefits you gain by hiring a dedicated team of app developers.
When you hire dedicated developers and programmers, the project development will move forward with the set time. The deadlines will be met on time, and there will be no unnecessary delays. By hiring dedicated developers, the project is delivered on time, and thus, the time spent in coordination and development is also less than an in-house team or freelance developers.
Thus, hiring a dedicated developer or an offshore software development team is quite beneficial for a business and may transform the project development experience for many.
The cost factor is one of the most important factors all businesses and entrepreneurs consider while hiring offshore app developers or development companies. Most of the companies hire a dedicated developer team offshore because it is cost-saving.
When you hire a dedicated team for your project, the labor costs will be reduced, and that's a great advantage of the dedicated team model. Many choose the offshore development company for its affordability, and that's a prime concern as well, isn't it?
Complete control on the project
One of the best things about going for a dedicated team is the control of the project development. When you hire dedicated programmers, it gives you complete control and freedom in the project.
You can assign the tasks to an offshore software development team and have a sigh of relief. You can also keep an eye on the status of app development. You can also make changes in the app development according to your work plan.
When you opt for offshore software development, there will be effective communication with the developers. You can stay in touch with the offshore dedicated developers on a regular basis. You can also ask them to keep you updated about the status of the project regularly.
In addition to this, offshore developers also provide assistance after the project deployment. You can still reach out to them once your project is delivered. Thus, hiring offshore software development teams is quite a good deal.
Your decision to outsource the software development team is so worth it as dedicated developers have enhanced and varied skillsets. More and more companies around the globe hire dedicated developers to leverage a wider skill set around the globe and develop robust web apps.
Thus, to get the best talent around the globe, software development outsourcing is an option you can rely on. If chosen wisely, an offshore development team can be quite productive, tech-savvy, and skilled.
One of the biggest benefits of a dedicated team model is that there is a collaboration between the client and the team of dedicated developers. In the dedicated team model, the client can interact with the team directly and maintain the topmost level of transparency.
Besides promoting collaboration, hiring offshore dedicated developers also enables the clients and the dedicated developers' team to work together to solve problems that might appear during the web app development.
A dedicated team of developers speeds up the project development process and develops a project faster than other hiring models. The collaboration between the client and the team of dedicated developers allows the entire project development to proceed faster.
So, to develop the project faster and launch it sooner than your counterparts, hire dedicated developers from an offshore software development company and avoid any unnecessary delays.
What Is the Structure of a Dedicated Team Model?
To develop every project with perfection, you must pay attention to the structure of the team and make sure they have the experts required for your project. So, when you hire a dedicated offshore software development company, the team must include the following
Project manager
A team of dedicated software developers
Dedicated UI/UX designers
Q A engineers/ analysts
Digital marketing and SEO experts
Other experts like data scientists, consultants, business analysts, etc.
Thus, no matter which outsource software development company you hire, their team must be skilled and have the right experts to handle each step of project development professionally.
How to Hire a Dedicated Developers Team for Your Next Project?
Finally, we have come to the most anticipated section of this blog. You might be wondering what all you must do to hire dedicated software developers from a reliable software development company; well, keep reading, and you will get the answer real soon.
So, we will take you through the steps you should follow to hire skilled, dedicated developers for offshore software development. So, stay glued and keep reading.
Discuss your requirements with the dedicated developers
The first step is to contact your development partner and discuss your project and its requirements in length. Make sure to discuss with them all that you want in the app so that they can hire the best offshore dedicated developers for your project.
You can also provide them with a requirement document along with your company's name to find dedicated software developers that understand your project the best.
Interview the dedicated developers
The next step to hiring dedicated developers is to interview them and understand their expertise. Interviewing the developers gives a sense of satisfaction and reassures the clients of the developers' skills and motivation to carry out the project.
The hiring process is also a great way to check whether you have partnered with the right offshore software development team. All in all, interviewing the developers is quite helpful to understand the dedicated developers and their work culture better.
Manage the team and receive daily updates
Once the interview is done and the dedicated team is hired, you will have an offshore software development team consisting of skilled experts to get the job done. You can ask these experts to give you daily updates about the status of project development.
You can also pick your own style of management and get as many updates from the team of software developers as you want.
Once the team is finalized, signing an NDA is something one shouldn't miss. Many people are skeptical of the trust, safety, and security while outsourcing offshore software developers.
Going through the NDA is a must to ensure the project development takes place smoothly. Moreover, there is also an option to sign a personal NDA with each expert in the offshore software development team.
Get a detailed contract.
Now comes the part of signing a contract with a clear description of the following
The total development rates
Payment methods and invoicing protocols
Warranty conditions
After deployment, support, and maintenance
How Much Does It Cost to Hire Dedicated Developers?
The cost to hire dedicated developers differs from one offshore software development company to another. Moreover, the location of the developers also matters a lot. For instance, outsourcing software development to the UK or U.S-based company would cost a lot more than an Indian-based software development company.
If you want to hire dedicated programmers and developers for your next web application development, you can reach out to Krishang Technolab. We are known for providing high-quality offshore software development, and our team of dedicated developers is always up to take and work their charm on exciting projects.
Conclusion
If you have recently heard about the dedicated development team model and want to hire dedicated developers for your next project, knowing about it in detail would come in handy. The demand for offshore software development is rising every day as more and more businesses are acknowledging the perks of software development outsourcing over an in-house team of developers. Rest assured that an outsource software development team will transform your project.
However, you have to be wise enough to hire dedicated developers from a reputed offshore software development company. To get the best-dedicated team of developers, you can rely on Krishang Technolab. You can partner with our dedicated developers and discuss your project in detail. We would come up with exciting outputs and solutions to develop a project of your dreams.
Let's partner up and develop wonderful projects. Contact Us now!