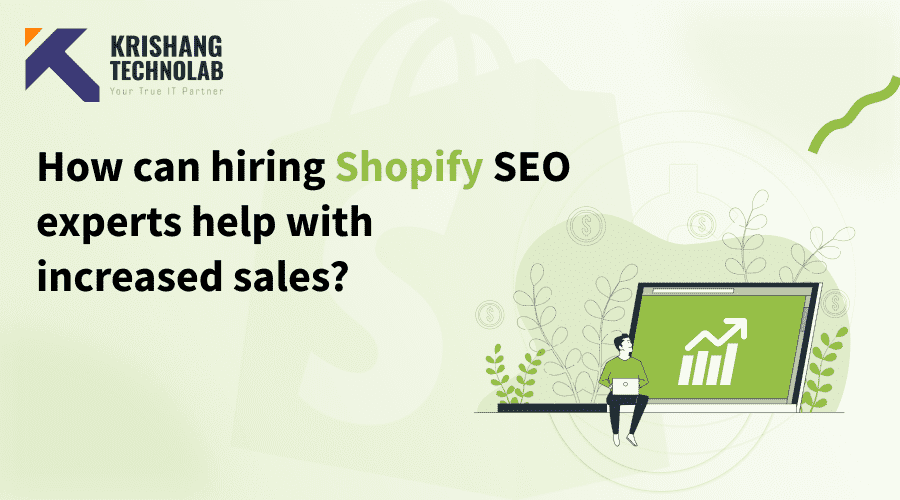 If you are planning to build a Shopify store for your business, Shopify SEO is something you can't miss. To make the most out of Shopify SEO, you need to have a Shopify SEO experts by your side. This is because SEO makes sure the search engines recognize your Shopify website and its content as a result of a search query.
SEO stands for search engine optimization. In simple words, SEO refers to the strategies to rank your website on top of the search engine pages. It is the process of optimizing websites so that they rank well on search engines and get more and more traffic. SEO is one of the most crucial marketing strategies for any business.
In 2023, Shopify experts are playing a crucial role in helping businesses increase their sales with their immense knowledge of Shopify SEO. Thus, along with hiring Shopify experts and developers, you need to hire Shopify SEO experts to make your website stand out.
Let's understand Shopify SEO in detail
Although the goal of SEO is to rank the websites higher in search engines, Shopify SEO is a little different than website SEO. Shopify SEO refers to the process of optimizing an online store built on the Shopify platform. Shopify SEO strategies enable better visibility in search engines like Google. Moreover, Shopify SEO contributes to driving organic traffic, and ultimately increased sales.
Let's look at some of the key aspects of Shopify SEO
Keyword research
Identifying the right keywords is a game-changer for sure! It's crucial to target the right keywords that the potential customers are most likely to use in their queries. When you hire Shopify SEO expert, they use tools like Google Keyword Planner, and Semrush to find the most relatable keywords.
On-page optimization
This includes optimizing several on-page elements of the Shopify store such as product titles, descriptions, meta tags, headers, and URLs. it's important to integrate the keywords into these elements and avoid chances of keyword stuffing.
Technical SEO
Technical SEO involves optimizing the technical aspects of the Shopify website or store. The technical elements include optimizing the sitemap, improving site architecture, and ensuring that the search engine crawls your site efficiently.
Local SEO
Optimizing your local SEO is essential in the case of a physical store in a specific geographical area. This involves generating a Google My Business listing and ensuring your store's NAP (Name, Address, Phone Number) information is consistent throughout the web.
Content creation
Content creation is undoubtedly an important part of any website or store. Updating your store on a regular basis with high-quality content, such as blog articles or product descriptions, can help improve the Shopify store's SEO.
Monitoring and analytics
When you hire Shopify SEO experts, they help you regularly monitor your Shopify store's performance using tools like Google Analytics. This allows you to track the performance of your SEO efforts and make adjustments as needed.
Link building
Building high-quality, authoritative backlinks to your Shopify store can help boost your overall Shopify SEO. Shopify SEO experts focus on natural and ethical link-building practices and avoid low-quality links as they can harm the overall search engine rankings of the Shopify store.
Read More : Complete guide on Shopify eCommerce store development setup
Hire Shopify SEO expert and boost Shopify sales
From the pointers above, we come to understand that SEO optimization for Shopify is a crucial aspect to look at. And, to make the best out of Shopify SEO, the best option is to hire a Shopify SEO expert that you can rely on.
Shopify SEO experts are experienced individuals who know the techniques for boosting sales on Shopify. For instance, if you hire Shopify SEO experts from Krishang Technolab, our Shopify experts will come up with unique ways to increase sales for your Shopify store. You can rely on us and our Shopify SEO services. Now, if you are wondering what all we can help you with in terms of boosting sales on Shopify, we are going to talk about it next. So, keep reading.
Read More : How much does it cost to hire a Shopify expert?
Here is how our Shopify SEO expert improves Shopify SEO and boost Shopify sales.
Optimize your Shopify store
Optimizing the Shopify store is quite important for the overall SEO success. When the customers visit your store, it should look organized and structured. This makes it easier for them to find a particular item or service they are looking for.
Here are a few things that our Shopify SEO experts look over to make sure the store is properly structured
Ensure that the store is easy to navigate
Create a positive user experience by organizing the contents of the site
Arrange the site's contents into simple and easy-to-find categories
Include an 'About Us' page, a Contact Us link and Search bar
Optimize product pages
The second thing that Shopify SEO experts can help with is product page optimization. With better optimization, your product pages will rank better in the search engines and make it easier for the users to find your website or store through their searches.
When you hire Shopify SEO experts from a reliable Shopify development agency like Krishang Technolab, they help you with the following in optimizing your product pages
Make sure there are clear and crisp descriptions for each product.
Check the H1, H2 and H3 tags properly
Check the product images alt text
Examines the meta description tag that appears in the Google SERPs.
Track conversions and analytics
Shopify SEO experts will create conversion funnels to attract the visitors to your product pages. Moreover, they might also create promotions to attract the visitors. This is one of the important Shopify marketing strategies to increase sales.
There are SEO tools like Ahrefs and Google Search Console that help to understand the ranking of the site on search engines. Shopify SEO experts have experience with tools and therefore, make the best use of them to track conversion rates and analytics of a Shopify store.
Here is how these SEO tools can help in boosting sales
Help gain insights into the Shopify website traffic on search engines
Assess how the visitors interact with your pages online
Helps in understanding and optimizing the content of the site.
Fight competition with Shopify SEO
Developing a top-notch Shopify store is not enough. A lot more goes into making a Shopify store successful. It's crucial to maximize the optimization and have decent traffic on the search engines to keep the store going smoothly.
To achieve this, a Shopify SEO company can come in handy. Their experts are well-versed with Shopify's built-in features, SEO tools and troubleshooting techniques that can help in developing a remarkable SEO strategy that boost sales and sets your store apart from the competitors.
Moreover, these techniques and tools also help in increasing the store's visibility, and boost conversion rates, and sales for an overall successful Shopify store.
Hire top Shopify SEO experts from Krishang Technolab and boost Shopify sales now!
If you desire to rank your Shopify business higher and lead the market, it's time you start looking for a Shopify SEO agency. To save you time and effort, Krishang Technolab would like to present its excellent Shopify SEO services that are renowned for boosting Shopify website traffic, converting leads into sales, and boosting Shopify sales. Having the best shopify seo specialist in our team, we focus on crafting a bespoke Shopify marketing strategy for your store.
So, what's stopping you from calling us and taking this business further? We have a pool of highly professional and skilled Shopify SEO experts to choose from. Reach out to us, let us get familiar with your Shopify project and discuss the Shopify SEO strategies right away with our Shopify SEO consultant. Hire Shopify SEO experts from Krishang Technolab and be assured of the best services with high returns and best results