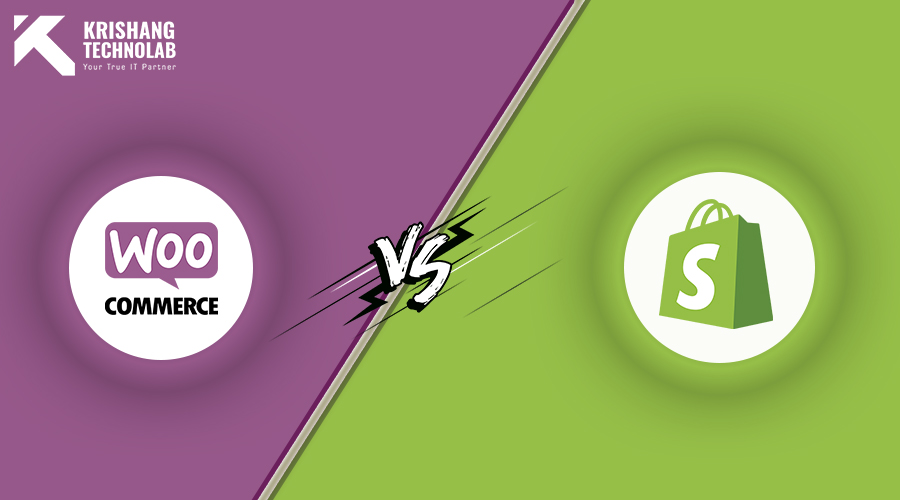 Building an online store for a business is not something extraordinary like it used to be several years earlier. Today, every business wishes to have an online store to reach their targeted audience faster. Not just that, having a website means your store practically runs 24*7, which isn't the case in a physical store. All in all, developing an eCommerce store is like giving digital wings to your business. You are bound to reach new heights with a well-developed eCommerce store.
Now, suppose you want to build an eCommerce store, and you have to choose a WooCommerce vs Shopify platform for store that's where the real game begins. Since there are many promising eCommerce store development platforms out there, choosing one might become trickier than you thought initially.
When we talk of the top eCommerce store development platforms, WooCommerce and Shopify have to be on top of our list. Many businesses get confused between these two platforms often. If you, too, are wondering which one would be the better platform for your eCommerce store, you have come to the right place.
We have come up with this insightful guide to help you decide on an eCommerce platform between WooCommerce and Shopify. So, stay glued and read on. Let us begin by introducing you to both platforms first. Here we start.
What is WooCommerce?
WooCommerce is not actually an eCommerce platform. It is an open-source plugin that turns your WordPress application into a fully-functional powerful eCommerce store. All you have to do is install the WooCommerce plugin on your WordPress, and there you have your WooCommerce online store running. Probably the best thing about WooCommerce is that it is free to install. WooCommerce is user-friendly, feature-rich, and has unlimited customization options. Enriched with WordPress's features, this plugin is gaining immense popularity for eCommerce development.
Key features of WooCommerce
Seamless WordPress integration
Open-source development platform
In-built payment processing
Large library of extensions
Built-in blogging feature
Local customization features
Simple and easy to use
What is Shopify?
You must have heard about Shopify already, thanks to its widespread popularity. You can count on Shopify for a variety of features that caters to every store development need. Shopify is older than WooCommerce and all the more popular as well. It was launched back in 2004. Through the years, Shopify became the go-to eCommerce store development platform for many. The platform makes it very simple to build an eCommerce store from scratch and is especially preferred for beginners with no coding skills. Over time, Shopify development became a benchmark to which all the other platforms are compared today.
Key features of Shopify
Easy to set up
The abundance of SEO tools
Abandoned cart reminders
Supports multiple payment gateways
Solid customer support
Integrated with 3rd party apps
Store management features
WooCommerce vs Shopify- A Detailed Comparison
Moving ahead, we will have compare WooCommerce and Shopify to help you pick the one for your eCommerce store development project. So, stay with us as we get into the nutty-grutties of WooCommerce vs Shopify comparison.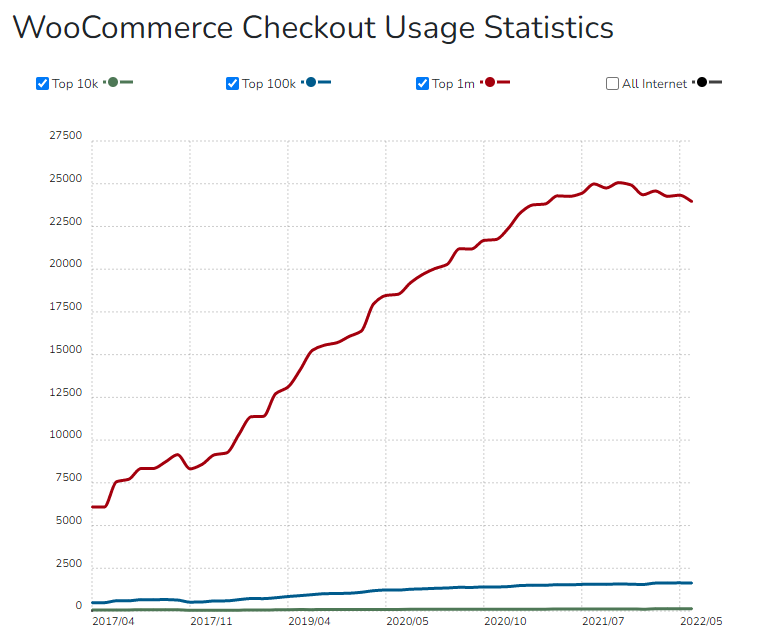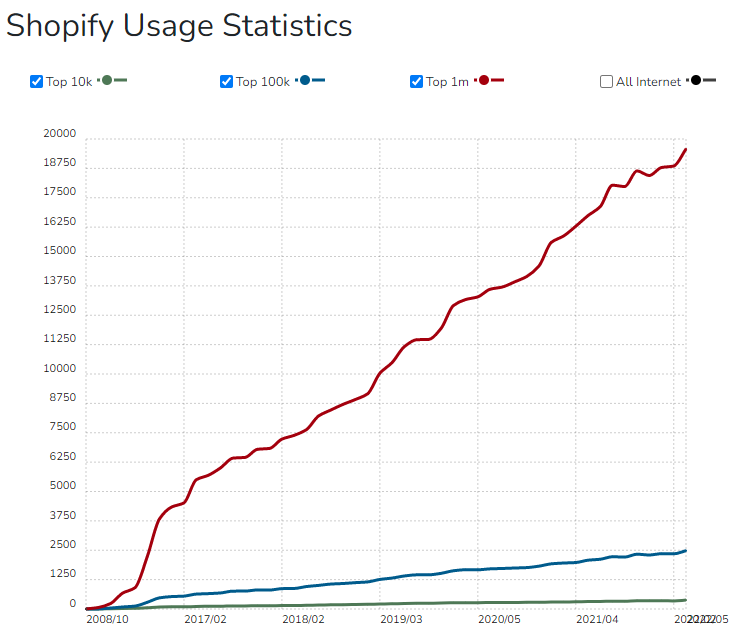 According to NPM Trends 6M website using Woocommerce where as 5M website using Shopify.
Ease of use – WooCommerce vs Shopify
Shopify is a hosted platform that doesn't require one to be an expert at coding to develop an online store. It is easy to set up and doesn't require any code to build a brilliant store. On top of that, this platform takes good care of both hosting and security.
WooCommerce, on the other hand, is not so beginner friendly. You must have some coding knowledge to use this platform seamlessly. Unlike Shopify, building an online store on WooCommerce with no coding language can give you a tough time.
Result- when it comes to ease of use, it's tough to beat Shopify. Thus, the winner here is clearly Shopify.
Design and themes – WooCommerce vs Shopify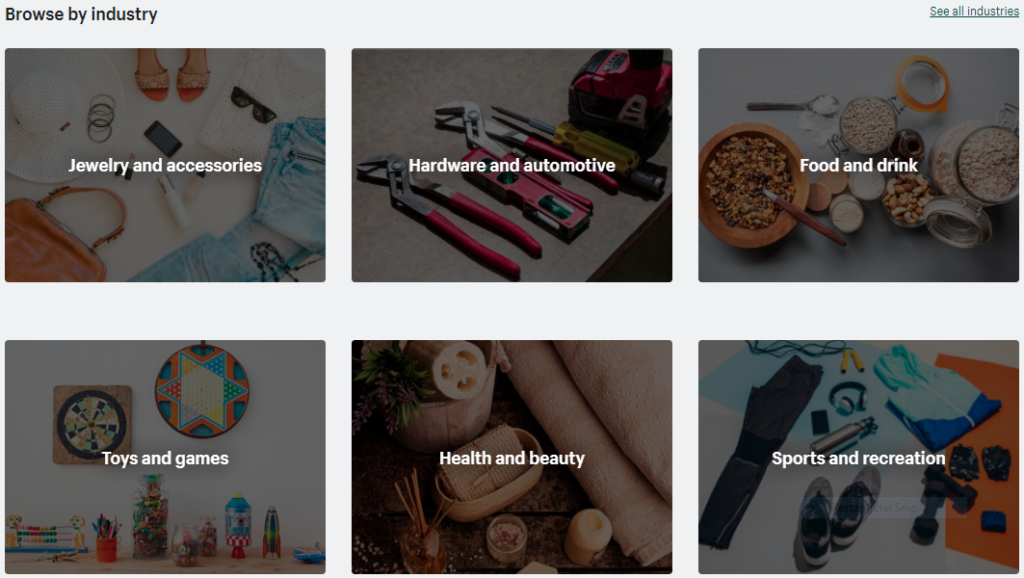 Beginning with Shopify, its designs and themes are its biggest points. Shopify has more than 54 different store templates, out of which almost 10 are free. Moreover, each of Shopify's themes has unique variations. This technically results in getting more than 100 Shopify designs. The best part about Shopify's designs and themes is that they are all mobile-responsive and come with a variety of color options.

When it comes to WooCommerce Themes, the design and themes are limited. As such, it doesn't have any specific design traits of its own. WooCommerce sure is a good option for building an online store, but the design part is left to the current or future WordPress theme.
Result- in terms of design and themes, Shopify sure deserves a win over WooCommerce.
You Can Find Out More About : Complete Guide On Shopify eCommerce Store Development Setup.

This blog will cover everything about the Shopify store, beginning from Shopify eCommerce store development basics to the Shopify web development services you need to know about.
Sales features – WooCommerce vs Shopify
Shopify has an array of sales features such as built-in abandoned cart recovery, discount codes, unlimited products, website and blog development, and over 100 payment options. All these exclusive sales features make it one of the best eCommerce store platforms out there.
On the other hand, WooCommerce is quite well known too, but it accesses sales features with the help of different plugins and extensions. In addition, some of these plugins and extensions are very costly.
Result- if we compare the sales features of both platforms, Shopify has the edge over WooCommerce.
Plugins and extensions – WooCommerce vs Shopify

Installing plugins and extensions helps to add extra functionality to your eCommerce store. Shopify operates with an app store with over 3,200 apps, but it is nowhere near the size of WooCommerce. In addition, Shopify is mainly a shop front where you get just product pages.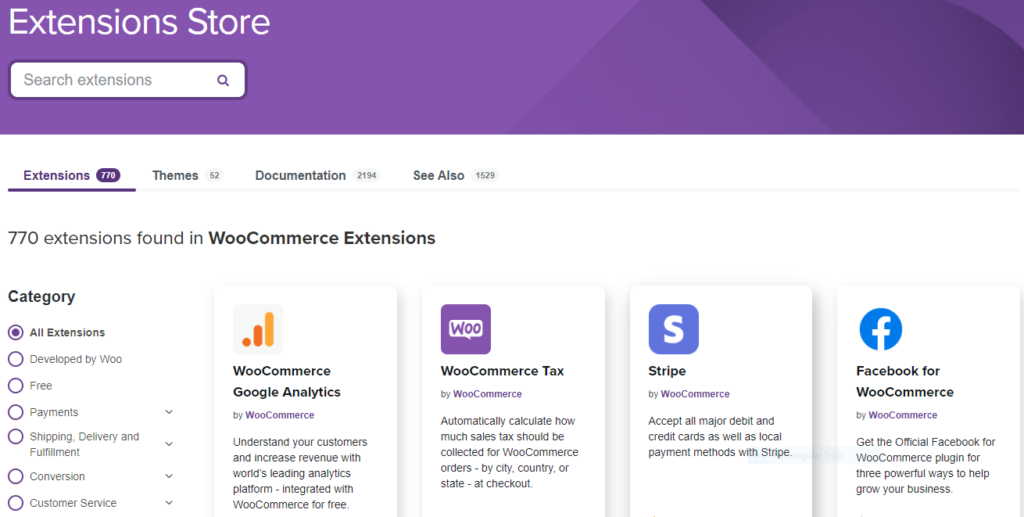 WooCommerce, however, is an open-source platform and, therefore, relies heavily on plugins. In fact, there are over 50,000 plugins to choose from in WooCommerce as compared to 1,200 plugins on Shopify.
Result- Given the stats above, it's pretty much obvious that WooCommerce is the winner in terms of plugins and extensions.
Marketing tools – WooCommerce vs Shopify
The right marketing tools are the secret ingredients to make your business prosper. Shopify has an impressive range of marketing tools and features, such as multichannel selling. This feature allows you to sell your products on platforms like Amazon, Facebook, eBay, and Pinterest.
On the contrary, on WooCommerce, all the marketing tools will be available through various plugins and extensions. Thus, sadly it has a limited scope in terms of marketing tools.
Result- It's difficult to beat Shopify when it comes to marketing tools. With multichannel selling, it sure does deserve the win.
Pricing – WooCommerce vs Shopify
Shopify comes with three plans which are basic, Shopify, and Advanced Shopify. The basic plan starts at $29/month. Shopify offers a 14-day free trial so that businesses can use it for free and make their decision about buying the plan.
WooCommerce is powered by Bluehost. Bluehost offers a 30-day money-back guarantee if you are not happy with the platform. The basic plan of Woocommerce starts at $ 13.99/month, which is cheaper than Shopify.
Result- Although both Shopify and WooCommerce platforms offer decent plans as well as enterprise-level pricing plans, WooCommerce is much cheaper. So, if you are on a budget, WooCommerce might be the right choice for you.
SEO – WooCommerce vs Shopify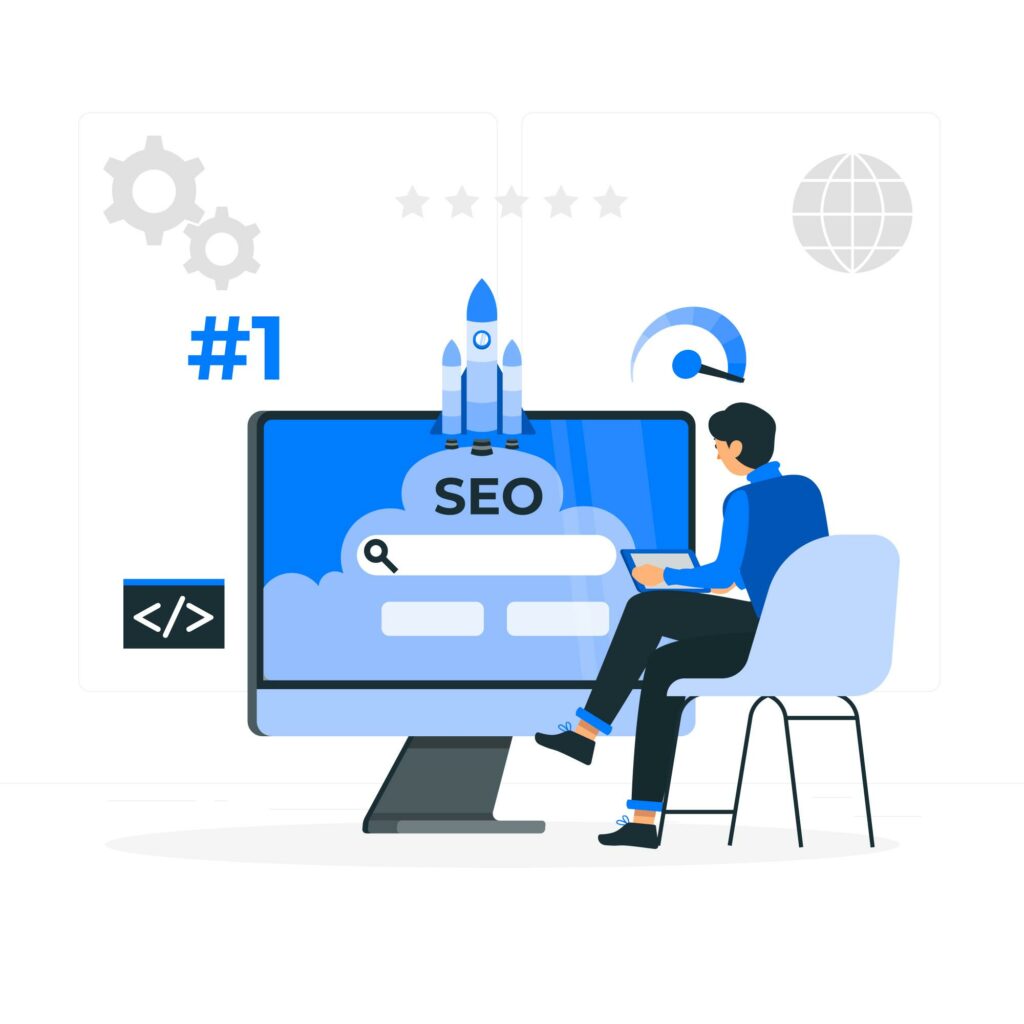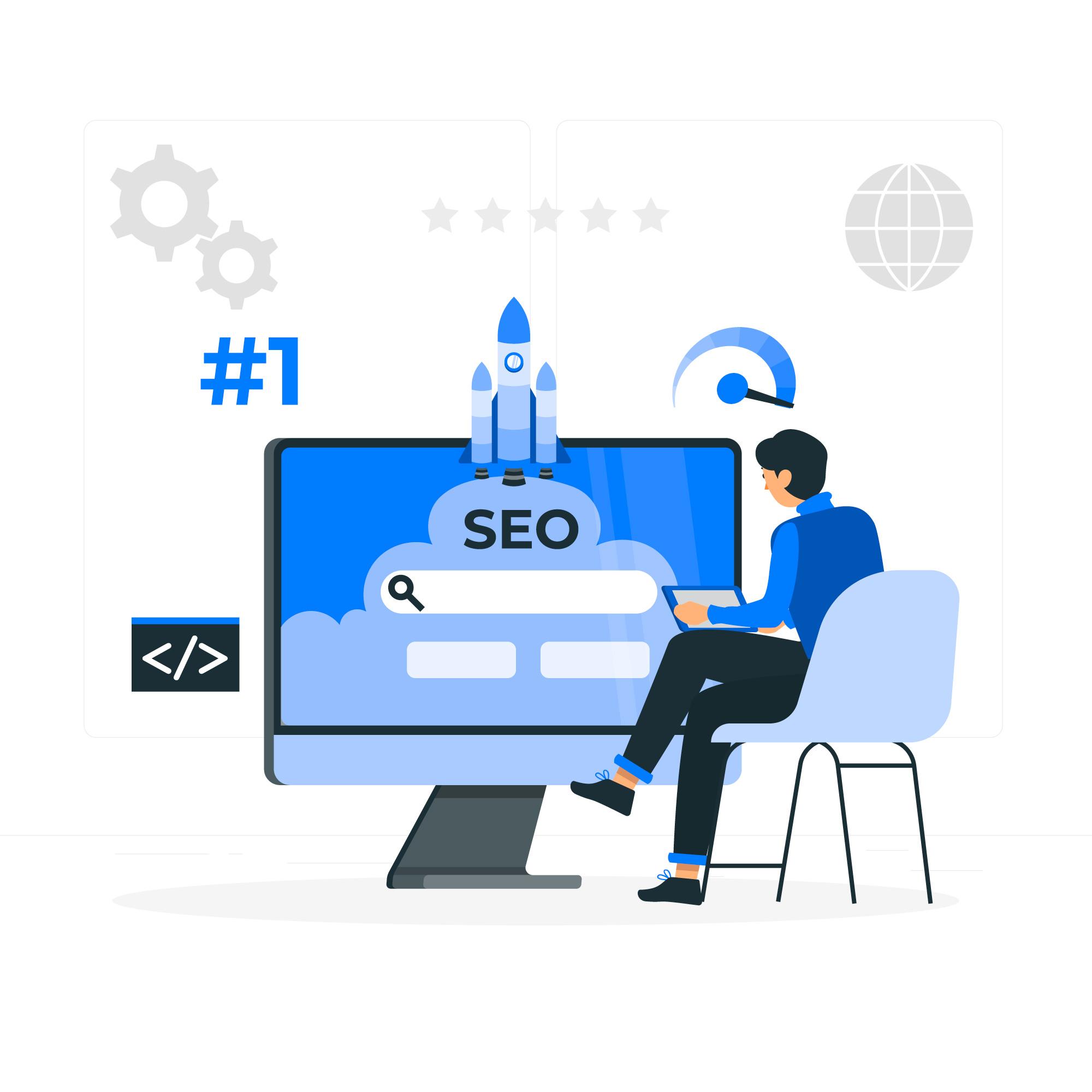 Like many other features and functions, Shopify doesn't disappoint when it comes to SEO tools. Shopify handles basic SEO practices like meta information and site copy with ease. On top of that, Shopify is fast and a hosted platform built on a vast infrastructure. This increases Shopify's chances of ranking well on the search engines.
WooCommerce is renowned for being one of the most reliable options for SEO tools. It's quite easy to add and edit content and meta information in WooCommerce. This ensures that pages have a high chance of ranking for targeted keywords. Plugins like Yoast SEO makes the WordPress site highly optimized and takes care of every SEO-related detail closely.
Result- WooCommerce gives more SEO-specific features and options than Shopify, but the problem is that the site speed depends on the hosting you go with. With Shopify, there's no need to worry about optimization, and the speed is always going to be smooth. Thus, after considering all the factors, Shopify wins this round too.
Support – WooCommerce vs Shopify
Shopify is renowned for its high-quality customer care and support. In Shopify, each client can enjoy 24/7 access to customer support. They can reach out to the support team via chat, mail, or phone call in case of any queries or issues. Certified Shopify experts in the community always help at the earliest.
The support with WooCommerce isn't as straightforward. As WooCommerce is an open-source WordPress plugin, you can get support from WooCommerce developers through the WordPress forums. However, the users can create a free user account at WooCommerce and get support from there.
Result- as mentioned above, Shopify's support is quite seamless, and thus Shopify emerges as the winner of the support round.
WooCommerce Vs Shopify- which one will you choose to build your online store?
The above WooCommerce vs Shopify comparison was done with the intention of helping you in choosing one among them. Although Shopify has the edge over WooCommerce, the final call is yours. We tried our best to cover all the important factors to help you choose one among them. Before choosing an eCommerce store development platform, write down your needs and figure out which of the two platforms cater to your eCommerce development the best.
To help you out a little more with the comparison, we will list out the pros and cons of both Shopify and WooCommerce eCommerce solutions. So, have a quick look and decide for yourself.
Pros and cons of WooCommerce and Shopify eCommerce platforms.
Pros of WooCommerce
Comes with a huge range of customization and theme options;
Users can access the WordPress community for any issues, troubleshooting, or inquiries;
A massive collection of plugins and themes;
Plenty of SEO tools and features;
wooCommerce's plugins are free;
Simple WordPress Integration;
Multilingual features can be implemented easily
Cons of WooCommerce
WooCommerce has a steep learning curve;
The service gets expensive with additions of themes, hosting, and plugins;
Support and service are often available only in English;
Encounters performance and stability issues
Pros of Shopify
All-round eCommerce store development platform;
Shopify's tiered pricing structure covers specific features;
Shopify handles all core eCommerce features;
It's a robust system for merchants;
Fastest loading time among all the platforms
Multichannel selling at no extra costs
Cons of Shopify
Limited customization and theming control
Monthly subscriptions are arbitrary and get higher at any time
The basic version of Shopify is more expensive than WooCommerce
Limited content marketing options as compared to Shopify
So, here comes the end of our WooCommerce vs Shopify pros and cons. We hope after going through the factors compared and the pros and cons of both eCommerce platforms, you make a choice and begin with the eCommerce development soon.
Looking for Shopify or WooCommerce developers? We have your back!
If you have made up your will about the eCommerce platform among the two and want to proceed one step further, it's time to hire either Shopify developers or WooCommerce developers. At this stage, Krishang Technolab can come to your aid.
We are a Shopify development agency having years of experience in Shopify web development services. Our certified Shopify experts will help you set up a seamless eCommerce store with unparalleled features and functionality.
In addition to having expertise in how to Shopify store development and , we are equally acquainted with WooCommerce development as well. If you wish to build an eCommerce store from scratch using this WordPress plugin, our WooCommerce developers have you covered.
So, hurry up, and reach out to our Shopify experts and WooCommece expert developers to develop a robust eCommerce store with either of these platforms. We are always there to assist you, no matter what.
Lastly, we hope the above-shared comparison and insights come in handy and help you pick the most suitable platform for your next eCommerce store development project. Feel free to ask us anything, we would be glad to be of any help!