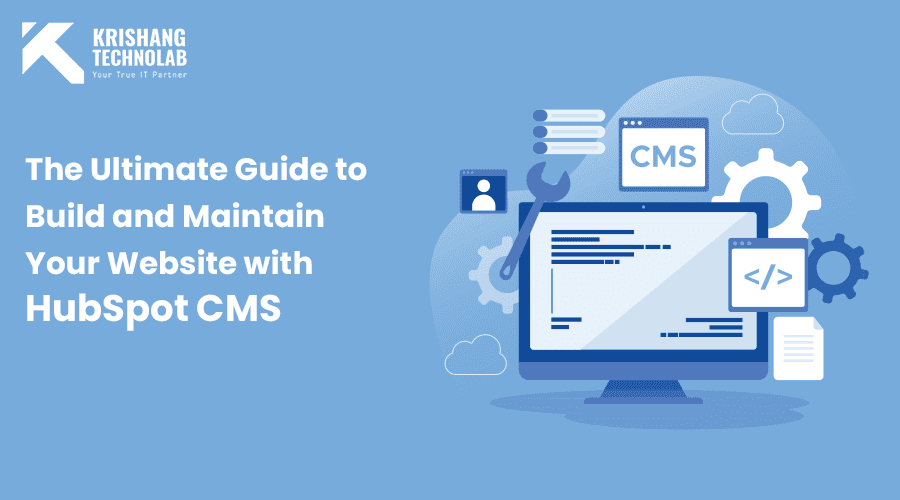 HubSpot isn't a lesser-known platform anymore. In the past few years, it has earned quite a reputation. To explain it simply, HubSpot is an inbound marketing and sales platform that assists businesses in attracting new visitors, converting leads, and closing transactions. With these features and more, HubSpot has become a popular website-building tool among varied businesses. HubSpot offers a variety of tools and features to help you create a custom website which is tailored according to your business needs.
Since HubSpot has such a high reputation and popularity, existing and new businesses look forward to building their website with HubSpot CMS. However, the lack of complete knowledge about HubSpot and its functioning leads to some confusion and doubts. However, after this detailed guide, your confusion will vanish and you will be able to understand HubSpot a lot clearer. So, stay with us as we take you through a thorough guide to building and maintaining your website with HubSpot CMS.
Before we begin with the guide to HubSpot CMS development, let us understand the features of HubSpot CMS development to know HubSpot better.
Key features of HubSpot CMS
Drag-and-drop editor
HubSpot CMS offers an intuitive, drag-and-drop editor that makes it easy for users to create and edit web pages without any prior coding knowledge.
Personalization
HubSpot CMS offers several advanced personalization features that deliver targeted content and personalized user experiences to customers.
SEO optimization
HubSpot CMS is built with SEO in mind and offers a range of tools and features to help users optimize their content for search engines.
Mobile responsive
HubSpot CMS enables building of fully mobile-responsive, websites. Moreover, these websites are highly responsive and optimized for all devices and screen sizes.
Highly secure
HubSpot CMS is known for being highly secure. It is built with security in mind as it has regular security updates and SSL certificates to ensure the protection of user data.
Integration with HubSpot CRM
HubSpot CMS integrates seamlessly with the HubSpot CRM, allowing users to track and manage leads and contacts directly from their website.
Content staging
HubSpot CMS allows users to preview and test their content before publishing it live. This ensures that everything looks and works seamlessly without any interruptions.
Minimal or no coding knowledge
This is one feature that attracts businesses to HubSpot development. Building and maintaining a website with HubSpot CMS is easier as it requires minimal or no coding knowledge.
These were some of the most celebrated features of HubSpot CMS website development. These features attract a lot of businesses and organizations towards this HubSpot and make them choose HubSpot over the rest. Moving on, we will understand how to go about HubSpot website development step-by-step. So, let's get going.
You can find more about : They say HubSpot development makes a great impact on your business. Let's see how.

In this blog we discuss about how HubSpot development makes a great impact on your business we will talk about it in length ahead.
Steps for building a website with HubSpot CMS
Getting started with HubSpot CMS
Creating an account is the first step of HubSpot CMS website development. Since HubSpot CMS offers a free trial period, it allows businesses to explore the platform's unique features and functionalities. HubSpot provides a variety of pricing options for businesses of all sizes. Depending on your requirements and budget, you can select from the Starter, Professional, or Enterprise plans. After creating an account and signing up, you will be taken to the dashboard, where you can start creating your website.
HubSpot CMS website development
Building a website with HubSpot is pretty straightforward. HubSpot provides templates to create a website without writing a single line of code. The templates provided by HubSpot can be customized to suit your business's unique requirements. To get started with HubSpot website development, here's what you need to do-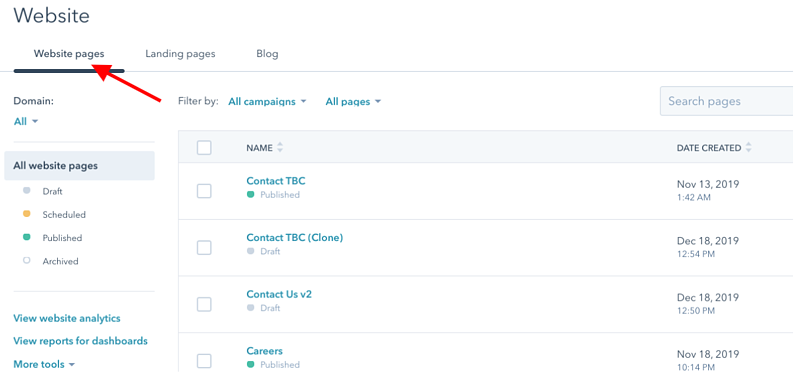 Click on the "website" tab on the dashboard and select "website pages." From here, you can either create a new page from scratch or build a new template.
When creating your website, make sure that it is optimized for search engines. HubSpot CMS also provides tools to help you optimize your website, including page optimization and SEO recommendations. Moreover, you can also integrate your website with Google Analytics to monitor your website's effectiveness and ensure seamless performance.
Hosting your website
Since HubSpot CMS provides hosting for your website, you don't have to worry about finding a hosting provider. The platform provides secure and reliable hosting that ensures your website is always online. HubSpot CMS also provides a content delivery network (CDN) that ensures your website's pages load quickly and run seamlessly, even for users in different parts of the world.
Publishing HubSpot website
Once HubSpot CMS website development is done and hosting is taken care of, the website can be published. Luckily, HubSpot CMS offers a range of website publishing options. This includes publishing the website to a custom domain, publishing it to a HubSpot subdomain, or embedding it into an existing website. Moreover, HubSpot also has SEO tools that help to optimize your website for search engines, making it easier for customers to find your website.
Maintaining your website
It is crucial to ensure that the website built with HubSpot CMS remains secure and up-to-date. Once the website is ready, a business has to put effort into maintaining it. If you think maintaining your website is overwhelming, a HubSpot development company can also help with the same.
You must note that HubSpot CMS provides tools to help you maintain your website. These tools include automatic security updates and backups. HubSpot CMS also has tools that help you monitor your HubSpot website's performance constantly. You can track your website's traffic and engagement using the platform's analytics tools. You can also set up alerts to notify you of any issues with your website, such as downtime or broken links.
Planning for HubSpot website design and development?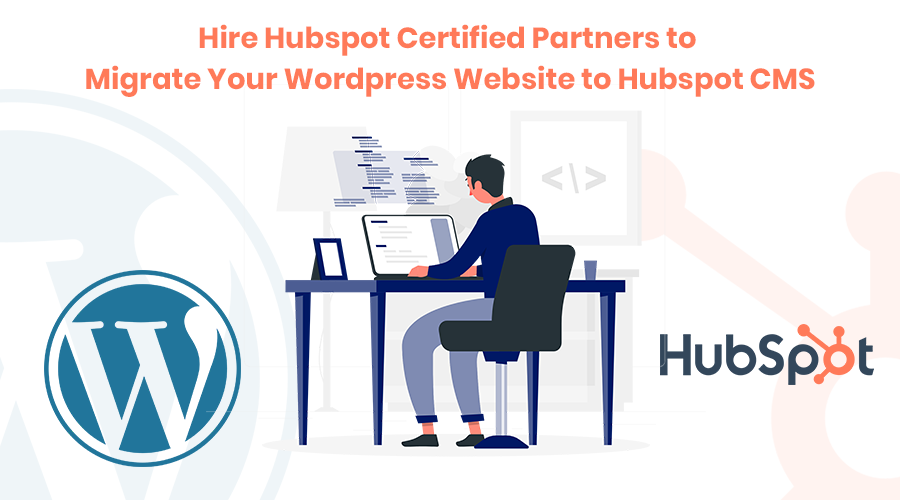 We are highly certain that the popularity of HubSpot CMS and its many features have impressed you by now. HubSpot has earned the trust of many businesses in the past and therefore, businesses have started showing immense interest in HubSpot CMS web development. If you too want to create a website using HubSpot CMS, you can hire HubSpot developers from a reputed HubSpot development company.
It's better to start with your research to find a HubSpot CMS development company that understands your needs and offers solutions that make your business stand out. As we talk of an expert HubSpot development company, Krishang Technolab can be your safe bet. We have been a pioneer name in HubSpot development for the past many years, and our experience with HubSpot development has been pretty amazing so far.
Krishang Technolab has expertise in the following HubSpot CMS development services
HubSpot website development
HubSpot custom development
HubSpot theme development
HubSpot blog development
HubSpot CMS website design
HubSpot integration
HubSpot consulting
HubSpot website migration
If you are looking for any of the mentioned HubSpot services, Krishang Technolab can be the best HubSpot development agency for you. Whether you want to build a website from scratch, create a website using HubSpot CMS/COS, build HubSpot landing pages or build an integration with HubSpot API, Krishang Technolab has expertise with all of these. For many years, we have been a pioneering name in HubSpot development, and so far, our work with HubSpot has been fairly amazing.
Here are a few reasons to choose Krishang Technolab as your HubSpot development company India
Experienced HubSpot developers
Krishang Technolab has a team of experienced expert HubSpot developers skilled in a range of HubSpot services. Whether it's HubSpot website design and development, HubSpot migration, HubSpot integration, or HubSpot consulting, hire HubSpot developers from our company and get all HubSpot-related services under one roof.
Timely deployment of project
We don't believe in unnecessary delays at all. We make sure to stick to deadlines and get done with HubSpot CMS development on time. Our HubSpot development team stays true to the time and delivers the project within the given time period.
Uninterrupted communication
We believe communication is the key and, therefore, stay connected with our clients throughout the HubSpot development. We always keep our clients updated about their HubSpot CMS website development progress.
Support and maintenance
After-deployment services matter as much as the development itself. When you hire HubSpot developers from our company, you get a complete HubSpot development package. Once we deliver the project, we take complete care of the support and maintenance as well.
Hire HubSpot developers and get started with HubSpot development today.
After going through the features of HubSpot development and knowing about the process of HubSpot website development, we hope you have made up your mind about hiring a HubSpot development company to bring your vision to life. If you can't wait to have a brand new HubSpot website for your business, start now! Get in touch with Krishang Technolab today. We are the most trusted HubSpot development company in USA and India. We assure you our HubSpot website design and development services will not disappoint you.
So, reach out to our expert HubSpot developers, hire HubSpot developers from our HubSpot development agency and leave it to us to build a website that does wonders for your business. Please feel free to call us, we will be there to assist you.