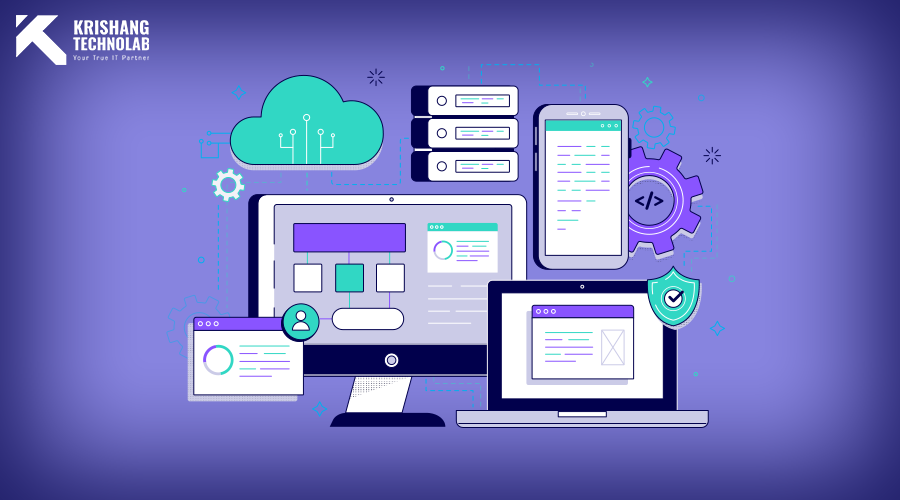 As you are here, we assume you have an exciting outsource website development projects brewing in your mind. Well, we know bringing ideas to life is tough but with the right planning and execution, what's not possible?
It's almost 2023 and in today's digitally advanced modern world, website designing outsourcing trend has become a go-to option for many. Outsource website development services is no exception. Although web development outsourcing is quite popular, many companies are still confused about the functioning of the whole process. Although they are aware of in-house web development, outsource web application development is still an alien term to many.
Well, if you too are a tiny bit clueless about web development outsourcing, you have landed at the right place at the right time. Lucky for you, this extensive guide will explain everything you need to know about outsource website development services. From the very basics to the fundamentals of web development outsourcing, we will take you on an exciting ride. So, stay with us and keep reading.
Starting from the very start, let us first understand what outsource website development is all about. So, here we go!

What is Outsource website development exactly?
So, in simple words, Outsource website development is a process which allows businesses to hand over some or all of their development activities to web development outsourcing companies and hire dedicated developers for their web development projects.
When a company opts for outsource website development services, they trust the outsourcing team with their project and rely on dedicated developers for every development-related query or update. Handing over web design and development project to outsourcing web development companies has become the new normal for many today.
Wondering if outsource website development services is the right option for you?
This is right away one of the most basic questions that companies often get confused about. The confusion between in-house web development vs. outsourced web development is real. Whether or not they should outsource website development services is the question that keeps them on their toes. It's okay to have doubts about this because we are here to resolve them for you.
Next up, we are going to mention some reasons behind outsource web development. So, follow us and understand how to outsource web development solutions can be better than in-house web development. Let's keep moving.
The first major reason is cost reduction. Many companies outsource web design and development services to minimize their overall project budget.
Another important reason behind web development outsourcing is faster speed to market. When companies outsource their development services, the responsibility of development passes on to the dedicated developers and thus, they will launch the project faster in the market.
Another reason behind outsourcing is collaborating with industry experts. Handing over the outsource website development project to the expert developers, the project turns out to be of great quality.
When a company hires an outsourcing company or outsourcing web development agencies for web development, they don't have to invest in training the developers. The outsourcing team already have the required knowledge and expertise. You only have to analyze whether they are fit for your project and the rest of it will be taken care of by them.
So, these were the main reasons behind hiring an experienced outsourced web development team or going for outsource website development services from reputed outsourcing web development companies.
We hope you got a hang of how outsource website development services can help you. If any of the mentioned reasons is your concern, you can outsource web development, hire dedicated developers and let them work their charm to bring your project to life.
As we understood the reasons behind outsourcing web development, let us move ahead with the core of the blog.
How to outsource website development successfully?
This is the question that requires the most attention. You must have had this question in mind from the very beginning. Well, we are on it finally. We will now take you through a step-to-step process to outsource website development smoothly and successfully. So, stick to the blog and read on.
Here we go with the steps to outsource website development services. Have a look.
Define your outsource website development projects goals
Just like each project is different, their goals are also different. Thus, the most crucial step before outsourcing website development is to understand the project goals in depth. There are a few questions that you need to address to define your project goals well.
Here is a list of questions to ask yourself
What is the purpose of the web app?
What problems is the web app going to solve?
Who will benefit from your web app and how?
What is the USP of your project idea?
What is the market scope for your web app?
What do you wish to achieve with this web app?
Being clear about these questions will help you understand your own web development project well and plan well in advance. With defined goals, the whole web development process will fall into place. Moreover, it will also help you in explaining your project and its goals to the outsourcing team clearly.
outsource website development projects requirements
When a project takes birth in your head, there goes plenty of ideas in your head about how the project is going to proceed. Having a clear project vision will help you plan better. Just like project goals, project requirements can also be defined with a few important points/questions in mind.
Let's see what these points are.
Decide the kind of web solution you need, i.e, whether you want to develop a website, a mobile app, an enterprise-level app or a web portal.
Next thing up is choosing the platform to launch the project. You need to decide on the operating system to launch the project. You can choose among the native, hybrid or cross-platform.
Give some thought to the prime features of the project. The features are the crux of any project and thus they are a must-have and the most important part of any project.
What other unique functionalities do you want in the project?
What unique features would you want in the project that make the project stand out?
After analyzing the project minutely, figure out which experts you will need in the outsourcing team. A full-fledged team consists of developers, designers, marketing experts, a QA team, and SEO experts. Which one of these do you want in the team?
Apart from these questions, define every other point that you think matters to your business. We have tried to put together the other points to consider below. Have a look.
Do extensive research to find your target audience
Know more about your targeted market through market analysis
Keep a tab on your competitor's sites and apps
Check your competitors' marketing strategists, and check the features that work for them.
Research on what the competitors are missing out on to introduce a new feature in your project.
When you are clear about your requirements, approaching web development outsourcing companies becomes much simpler. So, know the market better with some research and use your best planning to use. It will take you a long way ahead after you outsource web development company.
Define your time frame and budget
Setting some deadlines will ensure that your resources are not being wasted. Defining a time frame and budget will help you develop and launch your web project without any disruptions. You can calculate the approximate time to develop and launch the web application as per your requirements. You can share the estimated time with the outsourcing team as well.
Here are some of the factors that can affect the timeline of the web project
Project scope
Number of features required in the project
Experience of the outsourcing software development team
Testing and quality assurance
After defining the time, next up is estimating the budget of the overall project. The budget again is influenced by a few factors. Find these factors below.
The complexity of the project
Features and functionalities of the project
The development team hired for the project
Location of the developers
The time taken for development
Once you define the time and budget of the web development project, you can share your estimation with the outsourcing team and outsource website development smoothly.
Please note that the time and budget estimated by you might differ and fluctuate further. Hiring an experienced web development outsourcing team will help you with the estimate after understanding your project and its requirements in detail. However, a rough estimation of both is definitely going to come in handy.
hire an outsourcing web development team
Now comes the most important yet tricky part. The right outsourcing team doesn't come easy. It is very common to get confused between many outsource website development companies. First, you will have to find web development outsourcing companies as per your requirements.
Next up, you will have to interview the web developers, designers and other experts from the company to check if they have the expertise and experience you are looking for.
Apart from the experience and expertise, here are a few other things to consider about the outsourcing team. Have a look at these things below.
Client reviews of the outsourcing companies
Hourly rates of the developers and designers of the company
Check the company's website and social media platforms to understand the company and their culture better.
After researching, interviewing and shortlisting different outsource website development companies, choose the one that suits your requirements, and budget the most. In addition, outsourcing developers should understand the vision of your project. When the outsourcing team understands and believes in your idea, the end results will be much better.
Once you hire a dedicated team of developers and designers from an outsourcing company, discuss your ideas, expectations, and goals with them. Be transparent about your requirements and make sure you clear everything out from the very beginning. This will help you maintain a good equation with the outsourcing team and company.
Here are a few ways to make sure outsource website development is successful
Mentioned below are some of the ways to ensure that outsourcing turns out to be highly successful. Have a look at these ways, pay attention to them and hire an outsourcing team successfully.
Communication is the key to successful web development outsourcing. Make sure to maintain clear, and understandable communication with the outsourcing team. You can do so by conducting timely meetings, asking doubts, and staying updated about the status of the project.
Try to fill in the cultural gap if you are hiring an outsourcing team from another country. Minimizing the cultural differences will help you maintain a good relationship with the dedicated developers and work smoothly throughout the development.
Divide your budget for the different phases of web development. Apart from coding and developing, there are other aspects of app application development that are equally important. So, divide the budget to make sure the budget is distributed evenly and project doesn't run short of budget.
One of the most important things to take care of is signing the NDA. Ideas are the most important asset and therefore, an NDA ensures that the web app idea is protected. Signing an NDA makes your idea your property and keeps all the confidential data about your business safe and protected.
Looking for best outsource development company?
If this extensive guide has motivated you enough to hire dedicated developers from an outsourcing team, we are glad you finally made this decision. Now that you have made up your mind, next big thing is to get in touch with the right outsourcing web design overseas company.
Now, this is where we put ourselves at the forefront. Krishang Technolab is your trusted outsourcing partner. We are one of the best outsource web development to india. We can help you build a project from scratch or give a new life to your already existing project with our expertise and talent.
There are numerous experts at Krishang Technolab. Whether you want to hire a full-fledged outsourcing team, a team of developers and designers, QA specialists, testers, project managers and other experts, we can offer them all. With Krishang Technolab, outsource web programming has become simpler than ever.
So, if you want to outsource web design company and hire a dedicated team of web developers, feel free to get in touch with us and discuss your project in detail. Our developers and other experts from the team will develop a web project for you on a budget. Let's meet and develop a brilliant web project for you.