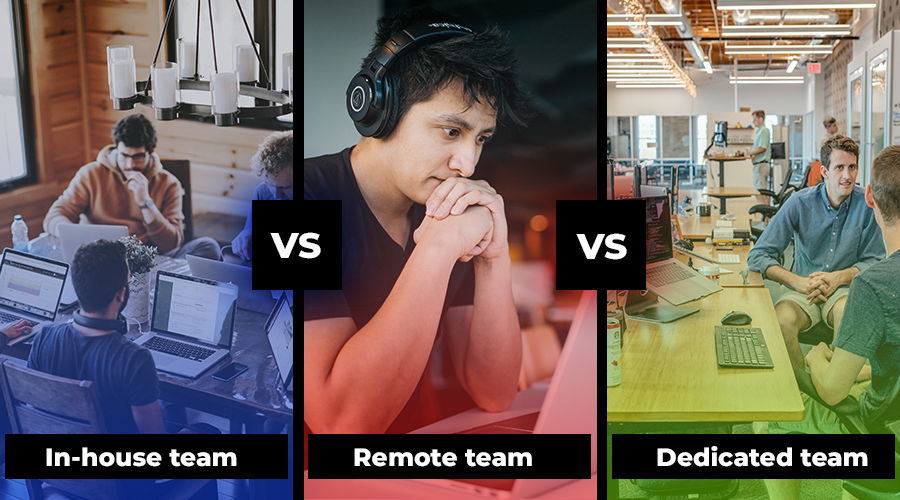 The world has transformed drastically in the past few decades due to digitalization and technology. Together, both of these have transformed millions of businesses and industries, and IT industries are one of the major industries transformed by technology in the past few decades.
Businesses are looking forward to growing their business by developing a website or app. The online presence of the business will help them reach more users and get more sales. To develop a successful website or app, one needs to hire skilled and experienced developers from a reputed app development company.
When it comes to app development, there are different hiring models that one can look up to. Some clients prefer an in-house team of developers, whereas some prefer an outsourcing team of remote developers. Apart from these two, some clients also choose a dedicated team of developers for their startups.
These days, clients are considering the alternatives of the in-house team model by choosing remote team model and dedicated team model for fulfilling all the development-related needs of the clients. However, the choice of the In-house team vs Remote team vs Dedicated team model differs from one client to another.
We will you through the three models one-by-one in detail and discuss some facts, pros, and cons of each of these models to help you choose one which best suits your startup project requirements.
In-house Team Vs Remote Team Vs Dedicated Team- Which One to Choose?
In-house team
The in-house team model is the most common model as it offers the utmost trust to the clients. This model is also quite simple as it utilizes the in-house team for project development. Clients look for a skilled and experienced in-house team that shares their vision and thoroughly understands their requirements.
What Is an in-house Team Good for?
The in-house hiring model is ideal for both large companies and startups. Every business type can hire an in-house team of developers to deliver the right expertise and meet the company's efficiency. An in-house model is generally preferred unless the team fails to deliver the right results.
Many successful IT leaders such as PayPal, SalesForce, and Amazon have an in-house team of developers for their development. However, just like everything else, in-house resources have pros and cons. We will discuss the pros and cons of the in-house model team.
Pros of an In-house team of developers
Easier communication, management, and culture
Face-to-face interactions and communications are a great advantage in an in-house team. The efficiency of face-to-face communications cannot be compared to other remote options. The in-house team also has great management skills and culture. Thus, there's better communication between the clients and developers in an in-house team model.
Many companies avoid outsourcing due to security issues. The in-house team has the edge over the remote team when it comes to protected data. When companies hire in-house resources for developing their project, they feel protected as compared to other models.
Better accountability and planned budgeting
Accountability is the first concern when it comes to choosing between an in-house team, remote developers, and a dedicated team of developers. The in-house team offers better reliability than the rest of the models. Moreover, the business owner or manager decides the salary of in-house developers and can plan the budget accordingly.
Building skills of the staff
Every business invests time, effort, and money in building the skills of its employees. In an in-house mode, these skills are transferable and can be quite beneficial as one employee will help other employees to build their skills, and the company will save on the training cost of new employees.
cons of an in-house team of developers
An in-house team offers long-term employment and pays its employees every month with added benefits like health insurance, extra-time benefits, travel expenses, etc. These expenses might become a problem for the owner in the long term.
Sometimes, developers lack the right expertise in an in-house team, and the scarcity of the right talent can affect their services. This lack of expertise leaves businesses with the option of outsourcing developers.
In-house team models might face work interruptions quite often. Employees might take sick leaves or even quit unexpectedly, and such incidents create work interruptions and massive delays in the project development.
Remote Team
A remote team is a type of outsourcing in which the clients can hire developers through cooperation with a vendor for their startup project. At affordable costs, many leading companies have hired remote developers from a custom software development company. In this model, skilled resources work remotely and dedicatedly for a client on a contract basis.
What Is a Remote Team Good for?
The remote team is excellent for companies that don't specialize in software development. It is preferred by clients who have a well-analyzed project and a clear vision of investment. The remote team doesn't just have cost benefits but many other benefits for businesses as well. It lets the clients choose the developers they want and bring in innovative new ideas.
Leading companies that have hired remote developers include Google, Slack, Alibaba, and many others. Although the remote team model is quite popular, it still has its share of pros and cons, and let's throw light on them.
Pros of the remote software development team
A remote team has more work productivity than the in-house team. Many employers have noticed an increase in their remote team's productivity compared to the in-house team.
A company can save quite a lot by hiring a remote software development team as they will not have to pay for commuting expenses and workplace expenses. Apart from saving costs, remote teams also save a lot of time as they don't have to travel to reach their offices.
A large pool of resources
Having a remote team is quite beneficial as they are open to hiring talented developers from anywhere in the world. Businesses prefer to hire the right talent from any location and hire remote developers from any city, country, or continent.
Reduced overhead expenses per employee
In a remote team model, the employer doesn't have to pay for the employees' health insurance, meal and travel expenses, etc. This results in reduced overhead costs per employee and becomes a primary reason for hiring a remote team of developers for development.
cons of the remote team model
Although the remote team model makes it possible to hire the right talent from anywhere, finding the right talent can be more challenging than it seems. While hiring skilled developers, one needs to focus on concerns such as data security, time-zone management, and reliability.
This is probably the biggest limitation of hiring remote developers for offshore development. When you hire remote developers, there might be a lack of communication between the clients and developers, resulting in further chaos and misunderstanding.
Hiring a remote team might not work in favor of the employers every time. Remote workers are generally self-employed who aren't answerable to any superior. Although remote workers are quite experienced and skilled, risks such as delays in completing the project or failure are higher.
One limitation of a remote team is that they might not get the recognition they deserve while working remotely. A recent study shows that 79% of people quit their remote work because they don't get an appreciation for their efforts. Thus, many remote workers find it challenging to work on their own and thus lose motivation in their work.
Dedicated team
A dedicated team model is about building a team of dedicated developers and resources with the help of a specialized agency. This model is mostly preferred for large and long-term projects. The dedicated team model has good skills, accountability, proper management, and affordable cost in the dedicated team models. Clients having defined business goals mostly go for a dedicated team model to build their projects.
What Is a Dedicated Team Good for?
This type of model is preferred for projects with a constant workload. In this mode, the dedicated team serves the clients in the same way as an in-house team. A dedḥicated team of developers helps the startups cut down on costs of building a skilled team and helps large businesses expand their businesses by fulfilling their goals.
A dedicated team combines the best of both in-house and remote models. Working with a dedicated team is quite safe and has great benefits, but a dedicated model also has its pros and cons.

Pros of a dedicated team of developers
Dedicated to goals and processes
A dedicated team is a team of experts working dedicatedly on one project for the long term. Hiring a dedicated team model gives you the freedom to manage the team and align them according to your business goals.
Managing the team structure is very convenient in a dedicated model, and therefore large organizations choose this model for project development. Hiring a dedicated team from a specialized agency allows businesses to manage their team structure, allowing the business owners to make quick decisions in the team.
Suitable for long-term projects
A dedicated team of developers is best for long-term projects. When a single team works on a project for a long, the project development becomes hassle-free. The skills developed during the long-term app development are transferable and thus help in the long run.
According to several claims and reviews, there has been a 10% increase in productivity from the dedicated team than other models. Moreover, with a dedicated team, businesses have access to global talent.
Cons of hiring dedicated software developers
In-depth team integration
A dedicated team model is integrated into the client's organization, and therefore, it is important to make sure that the software developers take care of all the security risks. Sometimes, companies keep all the information in-house and don't prefer a dedicated team.
Not fit for short-term projects
A dedicated team model is quite preferable for long-term projects, but it is not fit for businesses looking to hire developers for the short term. Hiring a dedicated team for the short term might result in more investment than other models.
After discussing these three models in detail, we will have a look at the In-house team vs Remote team vs Dedicated team model comparison graph on the basis of a few crucial factors.
Here Is the Comparison Graph Between the In-house team vs Remote team vs Dedicated team
| | In-house team | Remote team | Dedicated team |
| --- | --- | --- | --- |
| Right to decide the team structure | Yes | Yes | Yes |
| Fit for long term | Yes | No | Yes |
| Cost of development | Higher | Lower | Lower |
| Management engagement | Necessary | Unnecessary | Optional |
| Data protection | Yes | At risk | Better than the two |
| Communication | Yes | Average | Better |
| Productivity | Lower | Average | Higher |
| Overhead costs | High | Low | Low |
| Accountability | High | Low | High |
| Office culture | High | No | Average |
The graph above will help you decide between in-house resources, remote works, and dedicated expert developers, the three models for your next project. We tried to simplify it as well as we could, but the final decision was in the client's hands.
How can Krishang Technolab help?
Krishang Technolab is a well-known mobile app development company offering full-time software developers for your project. You can build a dedicated team with Krishang Technolab and even hire a remote software development team from us.
For your next web or app development project, you can hire dedicated software developers from Krishang Technolab and get the best benefits of a skilled, dedicated team. If you have a mind-blowing idea to discuss, our dedicated team of developers is already ready to assist you further.