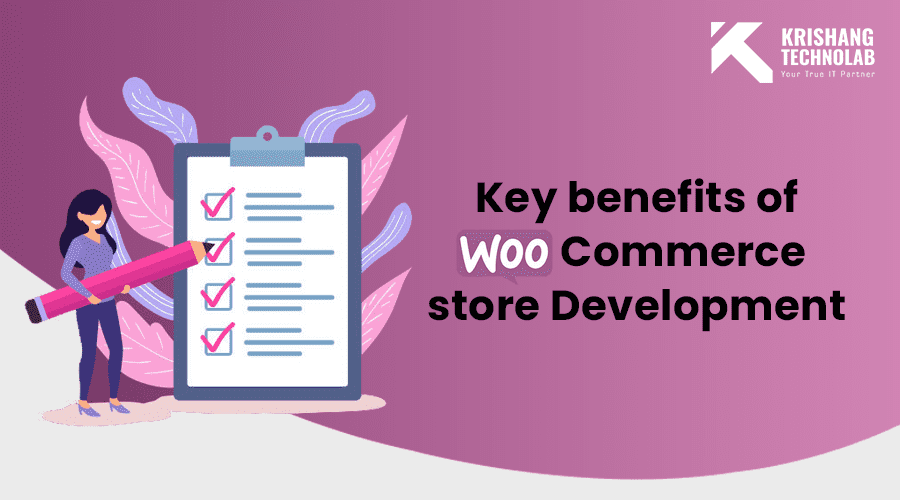 WooCommerce is one of the most favored eCommerce solutions today. It is based on the WordPress platform. It is one of the most common and well-known platforms on the internet. WooCommerce Store Development is suitable for anyone who wants to sell their products online. There are many key benefits of using WooCommerce Store Development. In this article, some of the key benefits of WooCommerce store development that you will get at Krishang Technolabs. 
Krishang Technolabs is a WooCommerce store development company in India. The company provides the best WooCommerce store development services and has successfully completed many WooCommerce projects.
Let us now discuss the Key benefits of WooCommerce store development at Krishang Technolabs. 
Easily customizable themes
With the WooCommerce platform, one can easily customize the themes of the store once the website goes live. This is accomplished by the use of the themes, either free or paid. Our dedicated team provides complete support and adds custom themes to your store as per your requirement.
A large number of official extensions
We provide a large number of official extensions for wooCommerce. There are official extensions, created and supported by our WooCommerce development team and countless other third-party extensions. These extensions of plugins will make your life much easier as they are already integrated. WooCommerce extensions and plugins are generally affordable and do not exceed $20-30.
Search engine optimization
SEO is a big part of any website or store. We offer complete SEO services as WooCommerce is running on one of the most well-established platforms in the world which is highly adaptive to SEO guidelines. We also provide third-party SEO plugins which can help you optimize every post and page of your website.
Extremely affordable and flexible
WooCommerce store development services provided by Krishang Technolabs are extremely affordable and flexible. Compared to most platforms, the WooCommerce solution is always significantly cost-effective. We offer flexibility as new features can be added quickly, implementing affordable new themes, etc. with Krishang Technolabs you will get the best services at the most affordable costs.
Great support
At krishang Technolabs, you will get the best support if you come across any issue in your WooCommerce store. We believe in customer satisfaction and do not want to disappoint you. you can reach out to us for any query and we will respond quickly, look into the matter and solve the issue as soon as possible. Our dedicated team is always there for your assistance.
Hire WooComemrce store developers from krishang Technolabs
We have highly professional, experienced, and super friendly WooCommerce store developers. Our developers have worked on many projects successfully and continue to do so. 
Hire our wooCommerce store developers for your next WooCommerce store development project and get the best deal. We will build such a great responsive WooCommerce website with great features that you will be awe-struck.
For more details, get in touch with us. Call or mail us and we will respond as quickly as possible. Get a free quote from us!