Magento and WordPress are the two most famous CMS when it comes to creating a website. These two platforms are the robust open-source options available for free. Even small stores can benefit from using eCommerce to manage their store, customers, and orders.
These are both popular and at first glance, both the platforms might sound similar but that's not the case. Yes, both indeed have similarities, and both platforms are designed to encourage good SEO. But both platforms are designed to cater to specific kinds of websites.
To understand these platforms, in brief, let's have an overview of both the CMS.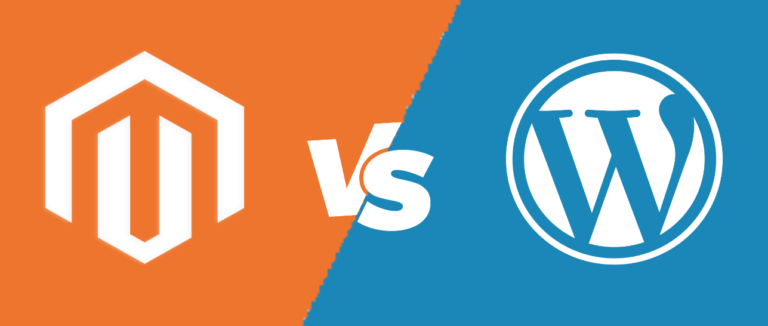 What is Magento?
Magento is an open-source eCommerce platform that allows businesses to create online stores, accept payments and manage products and sales. It is an open-source eCommerce platform written in PHP. This is one of the most popular eCommerce platforms used worldwide having loads of features, templates, and tools for the development of a website.
Here are some of its features-
● Open source and free
● Free and paid themes are available
● Multiple payment gateways
● Optimized for SEO
● Safe and secure
● Quick checkout option
What is WordPress?
WordPress is a free and open-source content management system based on PHP and MySQL. It is most associated with blogging but also supports other types of web content and can be used for developing websites. WordPress is easy to install and use. Even beginners can use it without much technical knowledge. It has many free themes available to choose from.
Here are some of its features-
● The free and open-source platform
● Easy to use and install
● Easy theme system
● Search engine optimized
● Strong WordPress community
● Flexible platform
Now when we have an idea about what Magento and WordPress are, let us discuss the comparisons based on their features and you can decide on your own which platform is more suitable for you. So let us begin.
1. WordPress vs Magento in development
Although both content management systems, despite having many similarities, we can't say they are completely similar. As soon you begin development, you can see the differences between both content management systems.
WordPress is easier to work with. A person having little technical knowledge can install and use WordPress but such is not the case with Magento.
If you have worked on WordPress previously, Magento may seem complicated to learn due to the differences in terminology. But with time, it gets easier to learn.
Overall we can say that WordPress is easier to use and one can develop a website in WordPress with much more ease than in Magento.
2. WordPress vs Magento for SEO
Both have amazing SEO features and they can also be improved with the help of extensions and plugins.
For WordPress, it is important to choose clean coded themes and install a plugin such as Yoast SEO to manage important details such as custom page titles and meta descriptions
When using Magento, one has to be sure to choose a well-scripted theme. it is not usually built with content marketing in mind, it needs a bit more effort to tidy up your SEO. One of the most overlooked aspects of this is to add title and alt texts to every image which helps increase traffic to your website.
3. WordPress vs Magento for Security
Due to its popularity, WordPress gets a lot of press on this aspect. However, the code core for both is highly secure.
both have security improvements. The question of security comes down to the add-ons, themes, and plugins you choose as well as how well you can manage your server security.
Security is yet another reason to choose a self-hosted solution.
4. WordPress vs Magento for cost
Magento is a self-hosted open-source software. You can download and install this yourself. Although this edition doesn't have all the features and does not come with any support. Second, you have Magento eCommerce which includes paid plans. The pricing of these paid plans is quite expensive. They are more valuable and provide high-performance cloud hosting, additional features, and professional support.
If you purchase paid extensions, and themes or hire a developer, then all these will significantly increase your costs.
On the other hand, WordPress is free and open-source software that can be installed for free. It doesn't require much technical knowledge and even beginners can install and use it. If you have little knowledge, you can use it without any need of hiring a developer. Many WooCommerce plugins are an alternative to paid extensions. There are also many free themes available that you can use to reduce your costs.
5. WordPress vs Magento in templates
WordPress is made up of multiple pages and posts. When developing template files, a lot of functions are used to call the post and page content. Template files can be created and applied on the same page.
Although Magento also functions quite similarly but sometimes what could have been done with a few clicks in WordPress requires more effort to be done in Magento. In Magento, you cannot set up additional CMS templates by simply creating a new template file but you will need to create a new module that has the list of templates available to it.
Conclusion
Based on the above blog, we can say that Magento is the more efficient alternative to WordPress when it comes to selling products online but it is also clear that it is far more complex and requires the expertise of a professional which can be expensive sometimes.
WordPress on the other hand is easier to use and even small business owners can use it for developing their websites with much lesser costs. WordPress continues to evolve with time and it continues to be a content marketing platform whereas Magento remains the ultimate choice for selling products online.
Based on the given points, you can choose any of the platforms depending on your business needs and requirements.
If you have queries or questions, feel free to contact us. We will try to answer back your queries as soon as possible.