Shopify is one out-of-the-box eCommerce platform for website or store development. It has become one of the most popular eCommerce platforms in recent times. Shopify provides tools to help organize your products, customize your Shopify store development, accept multiple payment gateways and track and respond to orders, and more.
Krishang Technolabs is a Shopify store development company in India. we develop amazing and feature-filled Shopify stores which are suitable for businesses of all sizes. Many benefits are proving why Shopify is one of the most successful and popular eCommerce platforms in the industry right now.
Let's throw light on some of the advantages of Shopify store development at krishang Technolabs. Let us begin!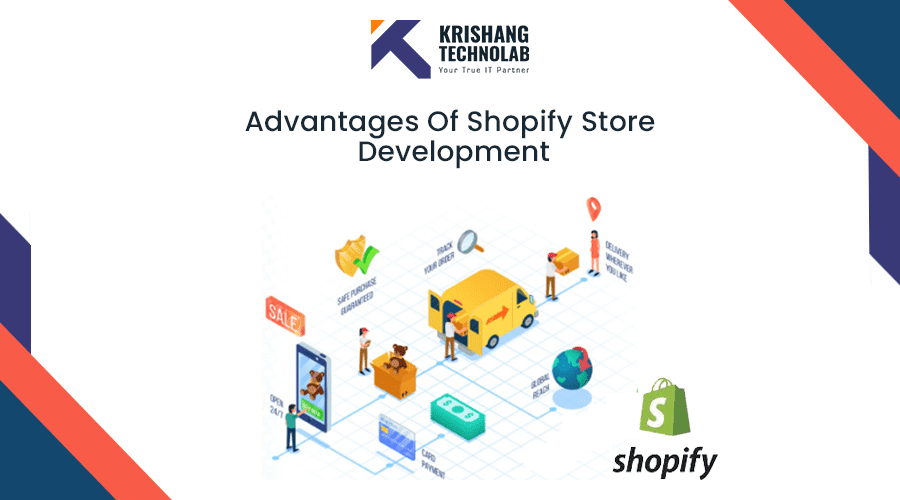 Fully hosted eCommerce solution
As a hosted solution, Shopify deals with all the website hosting as well as maintaining and updating the software which is running even when unexpected volumes of traffic visit your website. Krishang Technolabs creates fully hosted eCommerce solutions for clients and makes sure to provide high-quality services.
Quick set up Easy Use
Krishang Technolabs builds a Shopify store that is easy to set up and use. Using Shopify is easy as there is no need to understand the coding as well. When we create your Shopify store, it will be easy for you to manage your inventory from the Shopify dashboard, offer discounts, track orders and sales as well as manage your transactions.
Responsive checkout
Shopify's responsive checkout is free and accessible to all Shopify clients and it is one of the best checkouts out there. We offer a responsive and highly secured checkout page with amazing design and functionality. We make sure that our clients have the best checkout in their stores and we work hard for that.
We provide great SEO services to our clients and build SEO-friendly websites. Once we set up your online store, we optimize it for search engines. SEO is very important for ensuring that your store is showing up in the search results and has been visited by many.
Read also : Shopify to WooCommerce Migration Services
Customer support service
We offer great customer support services to our clients. If you come across any issue such as bugs or any other technical issue, you can contact us anytime and we will respond as soon as possible. We are always there for your Shopify store maintenance services as well.
Looking for a Shopify store development Company?
Are you looking for a Shopify store development company for an upcoming project? If yes, get in touch with Krishang Technolab. We offer Shopify store development solutions and create responsive and feature-filled Shopify stores which will take your business to new heights with increased sales.
Hire our expert Shopify store developers and get the benefits of the best Shopify solutions. We promise you quality services and a grin of satisfaction on your face.
For more details, Get in touch with us.