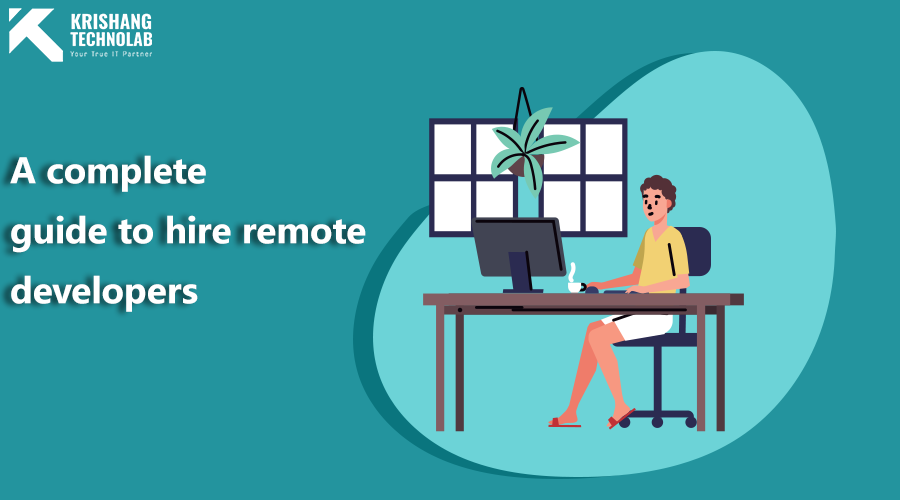 No matter what business you run, having an online presence of that business in today's time is an ultimate requirement. In today's time, developing an online store or website guarantees more sales, flexibility and convenience. As online shopping or eCommerce is on the rise, it's only natural for businesses to want to have their own eCommerce stores.
The many features and benefits of an eCommerce store make business owners want to develop a web app or eCommerce store of their own. However, developing an eCommerce store isn't as easy as it might sound. It needs a lot of planning, decision-making, and of course, hiring trusted developers to carry on the development process.
When it comes to hiring a trusted team of developers, businesses and companies are quickly moving towards hire remote developers for software development. Although in-house development teams are quite talented and efficient, hiring remote developers is highly preferred.
What are remote developers?
Remote developer are those located in different physical locations and operate remotely. Remote developer can be based anywhere and don't need to be in the same place as other employees or developers. Companies hire remote developers for their software development needs. More and more businesses are trusting remote developers team to build attractive websites, apps and software to step towards digitization.
A dedicated remote development team can do wonders for a business. If you too are looking forward to hiring remote developer for your next project, you should begin your search now. If you are still confused about hiring remote developer, here are some of the benefits you should know of.
Top benefits of hire remote developers
Constant development
When you hire dedicated remote development teams, they will be working on your project at all times. This is because remote developers don't work in a set time period due to being at different locations. With a team of remote developers, you can rest assured that experts are working on your project around the clock and your development has progressed well.
Access to a large pool of talent
One of the best things about hiring remote development teams is that there's access to a large pool of talent. There are many talented developers out there and hiring remote developers give the company a chance to connect with these developers and hire them for their project. Hiring remote developers also enable companies to find developers with the right skill set as there will be a lot of options available to them.
Greater engagement
Remote developer are happier because they get the freedom to choose their working hours and location. When the developers are happy and satisfied, they will work their best and be productive as well. With a good work culture, remote developer are more engaged and connected with the companies and offer great services as promised. The greater the engagement, the better will be the development process.
Flexible working hours
Flexible working hours and a good work-life balance have become a necessity these days. It's obvious that employees feel happier when they have flexible working hours. When you hire remote developers, happy developers will work hard and provide high-quality software development services. Thus, hiring remote developers is more flexible and beneficial for both- the companies as well as the developers.
No need for office space and equipment
This is another great benefit of hire remote programmers the businesses don't have to spend on office space or pieces of equipment because the remote sas developer will not be working in-house. You don't have to worry about setting up computers, printers or any other tech. This will save the companies a lot of money which they can utilize in other tasks.
Happier employees
Working remotely is something that many employees want to have. Remote working options result in more freedom, increased productivity, and lower stress levels. This will ultimately lead to happier and more satisfied employees. Happy employees will also work harder and give their best in developing your project.
Find Out More About : How to hire dedicated developers?

Do you plan to hire dedicated developers to develop robust web applications?
What are the must-have qualities of remote developers?
Hire remote software developers is a good choice but there are some qualities that you must look for in the remote software development team you hire. Here are some of the must-have qualities you should definitely look for.
Time management skills
Working from home is a great option but sometimes, it may affect productivity if there is no efficient time management. It is crucial to have a team of highly productive remote developers and meet their deadlines. Therefore, while hire remote developers keep in mind that the developers have the capability to meet the deadlines and follow the schedules.
Team building spirit
Having team building spirit is important as it will unite the whole remote development team and make them work with each other efficiently. When a team works together, they come up with better ideas and strategies for development. Thus, always look for the team-building skills of remote developer and make sure the team can work collaboratively on your project.
Communication skills
Having smooth communication is an important factor to consider while hire remote developers for your project. Remote developers must communicate with the clients on a regular basis and keep them updated about the progress of the development. Thus, hire remote developers must be good at communication and should be able to maintain transparency while communicating with clients.
Positive outlook
Having a positive outlook is quite important because remote developers with a positive attitude and outlook will always find and resolve problems and tackle challenging situations the right way. Hence, when you hire a remote developers team, the developers must have the capability to deliver the best quality work even under difficult situations.
What are the steps to hire remote dedicated expert developers?
If you are thinking of hire remote developers for your next project, following the right steps are going how to hire remote developers to help you big time. We have mentioned below the steps for how to hire dedicated developers to help you connect with the right team of developers and get them on board.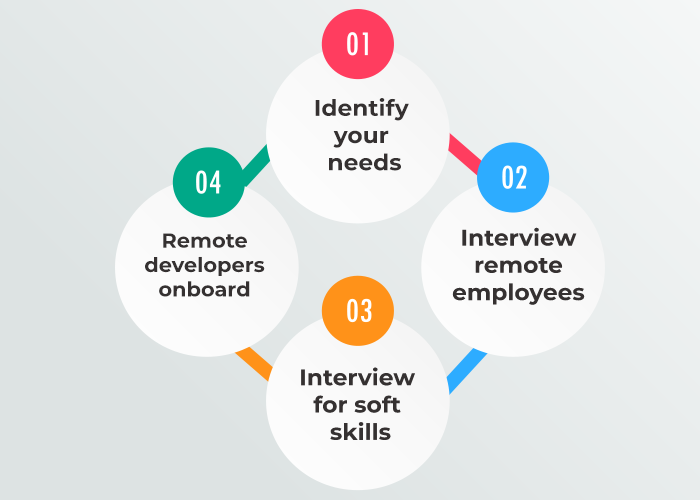 Identify your needs
The first step is to identify your needs and understand what exactly you need. You must figure out which features you want and which functions will benefit your business. According to the features, functions and other needs, hire dedicated remote developers with relevant skills.
Interview the remote developers
The next step to hire developers is to interview potential developers for your project development. There are several platforms where you can find skilled remote developers such as LinkedIn, Upwork. Once you interview a few developers, you can analyze their skills and shortlist those who seem like the best fit for your project.
Interview for soft skills
Once you shortlist the remote developers, make sure the candidate has a great understanding of their soft skills. Make sure the candidate has good communication, collaboration, and time management skills. Once you feel confident in their skills, you can offer them the job.
Get the remote developers onboard
Once you finalize the remote developers, you can get them onboard. Make sure the onboarding process is smooth. Explain to them your expectations and ensure that they are on the same page as yours. Also, take care of all the important documents and paperwork before they finally start working on your project.
Are you looking for a hire remote software developers ?
If you are looking to hire remote developers for your next project, the right time to start the hiring process is now. If you are wondering how to hire dedicated developer that understand your project like their own, Krishang Technolab can help you big time.
Krishang Technolab has expert remote developers, and programmers with years of experience and determination to develop successful websites, apps and software.
Here are a few solid reasons to hire remote development team from Krishang Technolab for your next project.
Experienced remote developers
We have a team of experienced remote developers having experience in web design and development across a variety of industries.
Use of the latest technology
Our team of remote software developers are acquainted with the latest technology. We use the latest technology, updated software and tools to build next-generation web apps.
Transparent pricing policy
We have a transparent pricing policy and we stay true to it. We don't keep any hidden charges or charge any extra amount at the time of delivery of the project.
Timely delivery of the project
We don't believe in making our clients wait unnecessarily. Our remote developers' team make sure to stick to the schedule and complete the delivery on time.
Effective communication
Effective communication is the key to remote development. When you hire remote developers from our company, they will communicate with you thoroughly and keep you informed about the progress of the development.
Support and maintenance services
When you hire remote web developers from us, we take care of after-deployment services as well. We offer support and maintenance services even after we deliver the project to our clients.
Hire remote developers from our remote development team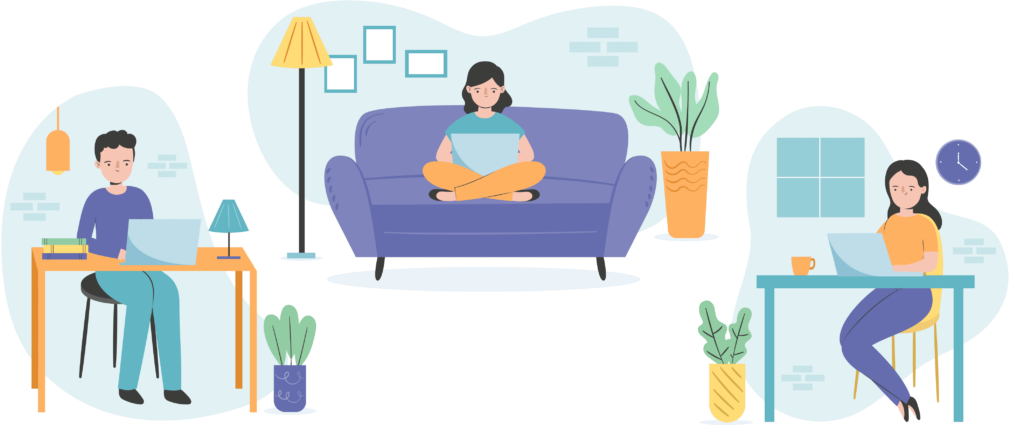 If you are intrigued by the benefits of hiring remote developers and wish to hire a remote dedicated development team in India, Krishang Technolab is here to help you. We have 50+ best remote developers in our team who are always dedicated to using their skills to develop great web apps. Hiring a remote team from Krishang Technolab will lead you towards success and make you stand out from the rest.
So, what are you waiting for? Hire dedicated remote developers from us and let us help you with high-quality web app development solutions. Our remote development team is already excited to work for you.