HubSpot, a customer relationship management platform, recently announced the launch of CMS hub starter, a new tier of its existing web management system that gives the developers the tools they require to generate business through their website.
Before talking about the HubSpot new CMS starter, let's know HubSpot CMS in brief.
HubSpot is a leading CMS for building high-quality and futuristic websites to help businesses grow faster. The platform includes marketing, sales, service, and website management. A skilled HubSpot CMS development company will offer a whole range of HubSpot services such as HubSpot website design and development, HubSpot migration, HubSpot CMS/COS development, etc. You can build a top-notch website for your business with HubSpot and grow effortlessly in the industry.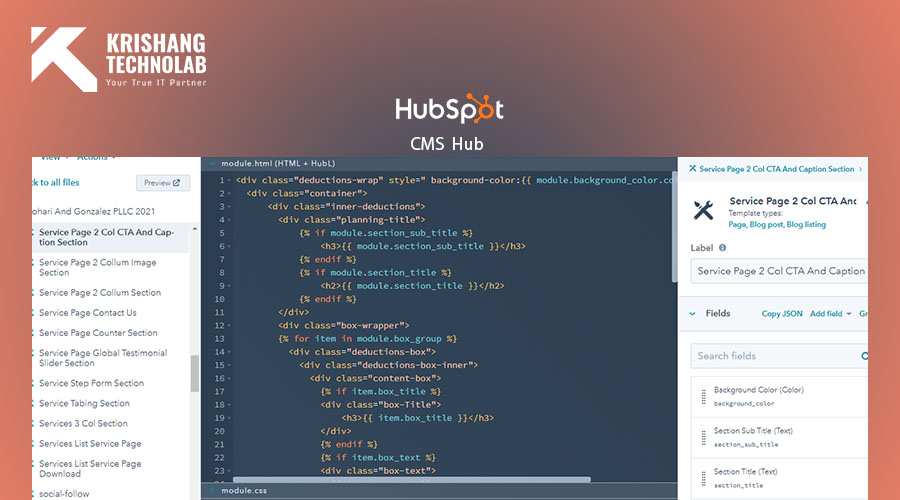 Here is the list of services that come under HubSpot services
HubSpot website design and development
HubSpot migration services
HubSpot COS/CMS development
HubSpot email and newsletter
HubSpot consulting
HubSpot blog development
HubSpot API development and integration
HubSpot theme development
HubSpot CMS expert developers
What is a CMS hub starter?
CMS Hub Starter is built with many new features and needs in mind, focusing on security, effortless usage, and the ability to tap into customer data. With the new CMS hub starter, the customers will be able to take benefit of many new features.
This new hub starter package is a part of HubSpot services and offers more professional team management with content partitioning, giving the individual team members access to the content they need to see.
Let's look at some major features of HubSpot website design and development after the HubSpot New CMS Starter hub.
Key features in HubSpot new CMS starter
Responsive drag-and-drop-editing
Different themes for websites
Local developing
Content in several languages
Standard SSL-certificate
Security monitoring and monitoring of potential threats 24/7
CRM database
Fast, secure, and reliable website
When you choose HubSpot COS/CMS development, the HubSpot New CMS Starter will build fast and secure websites. The CMS starter hub takes care of your site maintenance and built-in security features. With the help of this starter, HubSpot developers can focus on creating a great customer experience and offer robust HubSpot services to meet the goals of the businesses. There are several new features in the new CMS starter, such as SSL, a web application farewell, and a globally hosted CDN. These features are pretty unique and out of the box.
Easily build a remarkable website
If you want to grow your business with a website, you need a CMS that both the marketers and the developers approve of. Companies looking forward to growing their business with a website require a CMS which meets the needs of both the marketers and developers. When you choose HubSpot services, its CMS hub starter lets the developers use the tools and technologies that create flexible themes for the marketers. Marketers can also take ownership of the site and update the site as they want to. This allows the marketers and developers to take ownership of the site and work together.
The power of the HubSpot CMS platform
A company's website is its most important asset. However, the potential of the CMS is limited when it's siloed off from the front-office functions. The new CMS hub starter is built as a part of the HubSpot platform to provide the customers seamless HubSpot services and access to all their data to inform their web strategy and understand what type of content is liked by the audience.
The new CMS hub starter will be a game-changer for the companies looking to take their digital experiences to the next level. CMS hub starter makes it easier for the HubSpot developers to offer various HubSpot website design and development services, API development and integration, etc. CMS hub starter provides multiple tools to build a top-notch HubSpot website and generate high revenue.
CMS hub starter is available for a month and is also available as a part of the HubSpot starter CRM suite bundle, giving customers access to all five HubSpot products at a discounted rate per month. As part of the new CMS starter launch, HubSpot also adjusted the price of CMS hub Professional and Enterprise.
What is CMS hub professional?
CMS hub professional is a package for medium-sized businesses that want to provide a great customer experience by leveraging their CRM platform to generate business. This CMS is for the rapidly growing businesses that don't want to use a content system that requires heavy maintenance as it makes it difficult to HubSpot developers and marketers to take ownership of real-time website modifications.
What is CMS hub Enterprise?
CMS hub enterprise is a package that simplifies team management with content partitioning for those looking for professional HubSpot website design and development. This package gives the individual team members access to the content they need. This package is for those looking for more control to build their web applications with HubSpot CMS web development.
Are you keen to use the new HubSpot CMS hub starter?
HubSpot CMS is built for providing excellent website design and development services to help businesses grow and prosper. HubSpot developers try their best to provide the best quality HubSpot services, and with the new HubSpot CMS hub starter, the quality of the website development will improve even more. You can always scale your CMS system and use several tools without any need to switch platforms.
Are you looking for a HubSpot CMS development company?
If you want to build your website with HubSpot CMS and are looking to hire HubSpot developers from a skilled HubSpot development company, Krishang Technolab might be the right choice for you. You can hire HubSpot developers from our company and get the best HubSpot services to grow your business the right way.
Why should you hire HubSpot developers from Krishang Technolab?
Highly skilled HubSpot developers
Experienced team of HubSpot experts
High-quality HubSpot CMS web development
In-depth knowledge of HubSpot
Transparent and fair pricing
Excellent support and maintenance
We can help you with the best HubSpot consulting and HubSpot website design and development if you are looking to expand your business. Reach out to our team of HubSpot developers and get the most strategic HubSpot services and solutions. To learn more about our HubSpot services, feel free to reach out to us.